Steven Spielberg is synonymous with cinema. He has given us velociraptors in kitchens, soldiers storming the beaches of Normandy, and a kid flying over the moon. Film history textbooks will staple all of these moments as stunning demonstrations of a master at his craft.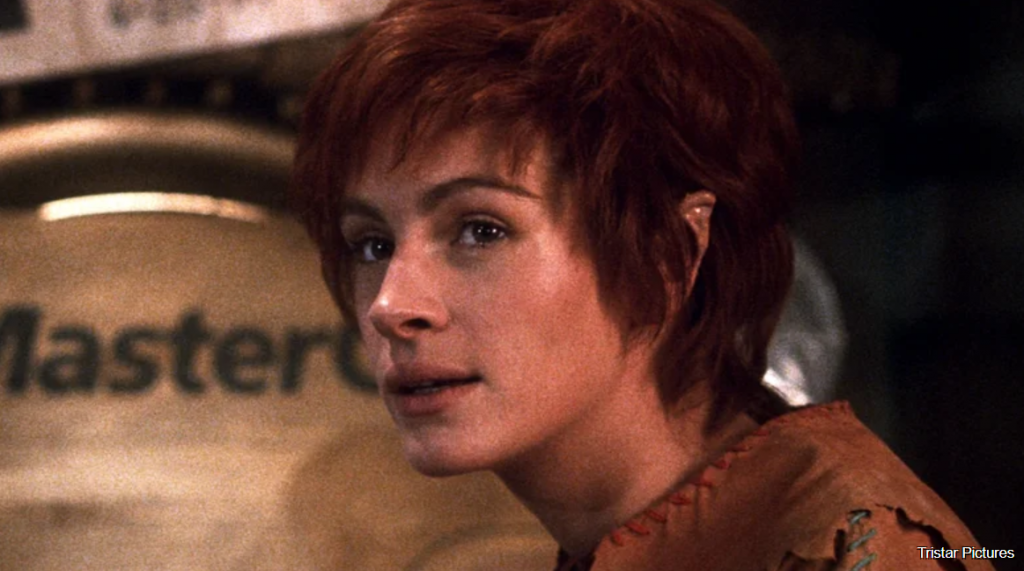 However, when a director earns such a gigantic reputation for greatness, we barely register the occasional hurdles encountered on the way – cinematic slip-ups worth forgetting. Some may cry "preposterous," others might declare "unfathomable" at the idea that the director responsible for classics like "Jaws" and "E.T.: The Extra-Terrestrial" could deliver a flop – and in his prime, no less. But critics viewed him just that way, and they now consider this flop as Spielberg's lowest critically reviewed film on Rotten Tomatoes.
Furthermore, people usually consider Spielberg's biggest misstep to be that film, which is a childhood fairytale that collides with the harshness of adulthood. In the blockbuster timeline, it is sandwiched between "Indiana Jones and the Last Crusade" and "Jurassic Park."
"Hook" is not a mistreated cinematic magnificence; forget all the tired criticisms you've heard in the past. On the contrary, it is perhaps even one of the master's most masterful inventions. We would say the best scientific term for this film is (what else?) bangerang, and we will tell you why.
Spielberg still doesn't dig "Hook," the forgotten treasure.
Steven Spielberg's sequel to Peter Pan, "Hook," has a critical rating of 29% on Rotten Tomatoes, making it the lowest-ranked film in his filmography. How could this happen?
The idea of Robin Williams regaining his mantle as the leader of the Lost Boys and returning to face Dustin Hoffman as Captain Hook isn't just a great idea in theory — it's a perfect story that the director, who pretty much wrote the book on family blockbusters, should be able to handle.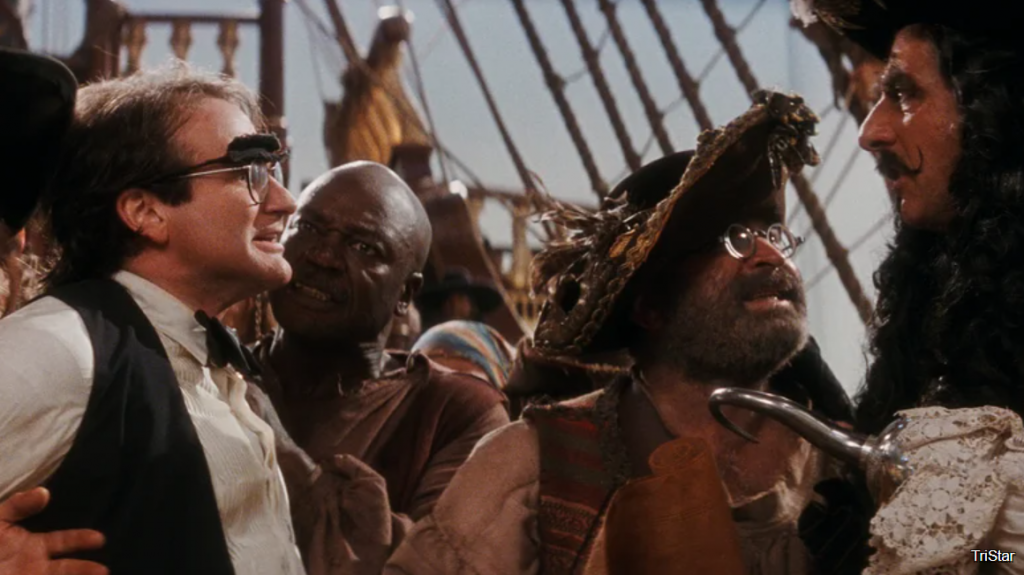 Although an entire generation of kids grew up loving this film, the man behind it all still believes that his trip to Neverland didn't work. Speaking on the Kermode and Mayo Film Review (via YouTube), the director admitted, "I still don't like that movie. But, I hope I'll see it again someday and perhaps like some of it." The director's harsh words on his own work continued in Empire Magazine that same year when he said, "I didn't have confidence in the script. I had confidence in the first act, and I had confidence in the epilogue. But, I didn't have confidence in the body of it."
Here we respectfully (and in the most excellent possible way) say, Mr. Spielberg, sir, that it's bad form. A stellar cast propels "Hook" to the clouds as a heartfelt comeback story that slaps for many reasons.
Robin Williams' Peter Pan anchors a truly amazing cast.
One of Robin Williams' all-time best performances is in "Hook," where he harnessed his comedic and dramatic chops equally and anchored a truly amazing cast. "Mrs. Doubtfire" and Genie in "Aladdin" performances are often quoted. Still, none so perfectly encapsulates the energy and excitement that Williams brought to the screen in his role in "Hook," where he portrays a grown-up Boy Who Never Grew Up. In the 1991 film, his transformation from Boring Banning to Pan the Man is like seeing one of the world's oldest superheroes return for one last round, as he goes from a mild-mannered attorney with a fear of flying to a swashbuckling savior, bringing to mind Peter Parker as much as Peter Pan. Accompanying him are also terrific performances by Julia Roberts as Tinkerbell and Dante Basco as Rufio.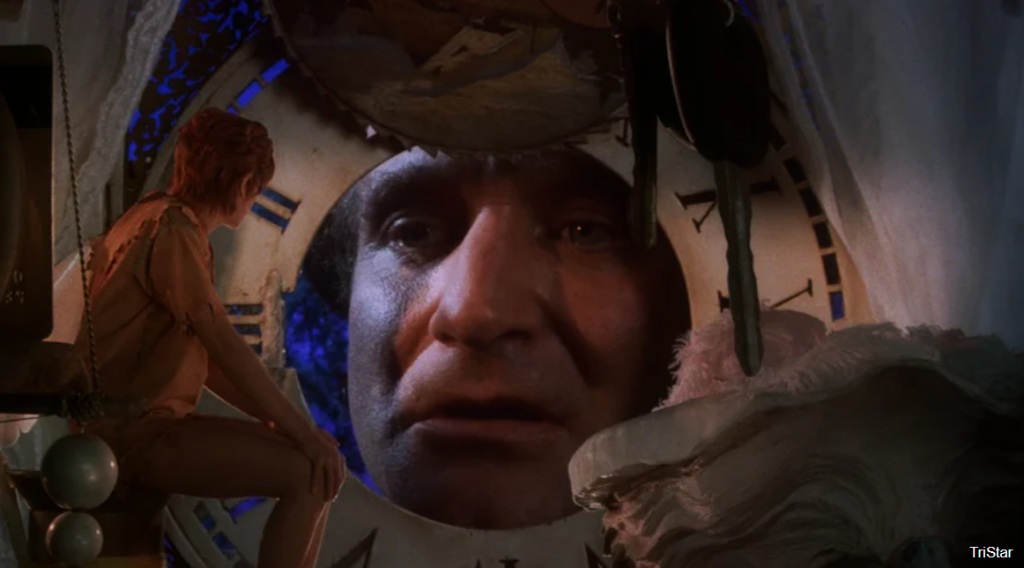 Dustin Hoffman's Captain Hook is an essential part of the film. He contrasts brilliantly with his co-star and effortlessly delivers literal sparks on screen. When Hoffman utters the iconic line, "To a 10-year-old, I'm huge," he's not wrong. His Hook is a larger-than-life villain who flies the Jolly Roger, yells at his crew (including a pirate that looks strangely like Glenn Close), has a surprisingly supportive and loving relationship with Smee (Bob Hoskins), earns the right to his name in the title. Hoffman truly owns the role, portraying the "dark and sinister man" with a pinch of Primadonna, making the battle between good and evil all the more iconic … albeit with a very familiar element from another classic tale.
The surprising success of Hook comes from merging two classic tales: Scrooge and Peter Pan.
Spielberg's cinematic outings often share the notion of enjoying the wonders of the present and not forgetting what's important before it becomes the past. In "Hook," this message is conveyed through the character of Peter Banning, played by Robin Williams. Banning is the living embodiment of what many characters, heroes, and villains alike all fear — being forgotten. He has put the past so far behind him that he has literally forgotten that he was Peter Pan.
Meanwhile, an adversary is forcing Banning to confront the reality of his fading legend. Banning's work obsession has caused him to forget his children, Jack and Maggie, who are now being neglected by their father. Rufio is fighting to keep the memory of the original leader alive among the Lost Boys. It's no surprise that many of the characters, including Peter, share a disdain for the returning living legend of Neverland.
Julia Roberts' Tinkerbell serves as Pan's Ghost of Christmas Past, sending him on his way (via the second star on the right) to learn the error of his ways. These characters share a common insecurity, but none more than the hero himself, who is forced to remember the lesson of "A Christmas Carol" like a swashbuckling Scrooge of sorts.
Themes of Growing Up and Fear of Being Forgotten in Spielberg's Festive Fable
Despite targeting a younger audience, Spielberg's festive fable deals with heavy themes that contribute to the film's enduring status as a nostalgic childhood adventure. The film explores the themes of growing up and the fear of being forgotten, with Robin Williams' Peter Banning serving as a prime example of a character who forgot the importance of cherishing the present before it becomes the past. Banning's adversaries, Captain Hook and the work-obsessed corporate world that threatens to erase his children's memories of him mirror this same fear. In addition, the film draws on Charles Dickens's classic "A Christmas Carol," with Tinkerbell as Pan's Ghost of Christmas Past, guiding him to remember the error of his ways.
Despite the heaviness of these themes, the film's heart and humor and standout performances by Robin Williams, Dustin Hoffman, Julia Roberts, and Dante Basco make it an enduring classic.
Peter Pan and the matter of life and death
Spielberg has never been afraid to address death in his family-friendly works, as demonstrated by his decision to kill and revive E.T. back in 1982, a move that broke millions of hearts. "Hook" similarly tackles the topic, with the theme lingering throughout the film. The revelation that Peter Pan's greatest childhood fear is time itself underscores the theme and is resolved in a striking flashback.
Peter confesses to Tink that he was afraid of growing up because he didn't want to face the inevitability of death. This same scene reveals his meeting with Wendy, who ages from Gwyneth Paltrow to Maggie Smith. Peter must realize the importance of his time as a father, and the adventures that life can bring, to take to the skies once again. By merging his past joy with his present-day love of family, Peter finds the strength to become a hero and use his memories (happy thoughts) to return to his green tights and come to his children's rescue.
The scene is capable of moving even the coldest of hearts as Peter Pan rips through clouds and soars through the Lost Boys' camp in his Superman-style "first flight" or "leap of faith." This act brightens up the dark and intimidating topic of mortality, highlighting the fact that life, as fleeting as it is, is worth living.
Could there be a more perfect Neverland?
For "Hook," the world that the characters inhabit is crucial to the believability of the story, as is the case with any fantasy film. Neverland, a locale that had already achieved legendary status, is the setting that director Spielberg had to bring to life. Though he had not intended to create the best Neverland ever put to film, he succeeded in doing so. In an Empire article, Spielberg admitted, "I didn't quite know what I was doing, and I tried to paint over my insecurity with production value. The more insecure I felt about it, the bigger and more colorful the sets became."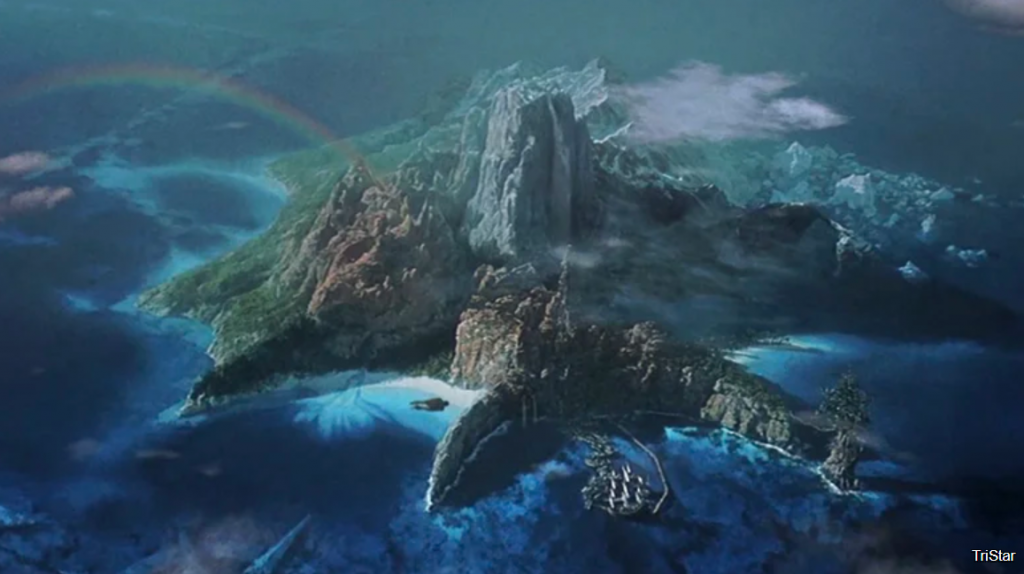 Spielberg's ability to deliver stunning visuals shines through in "Hook," even in the face of personal hurdles with the film. The film's gorgeous sets, including halfpipes and human catapults, are a testament to his talent. In addition, Neverland, the locale of the movie, is an adventure playground that you wouldn't want to leave.
When considering the local cuisine, one cannot help but be even more enchanted by Neverland. While plenty of films have food-focused moments, the scene in which Peter finally gets a taste for Neverfood is an unforgettable dish that never goes cold.
The audience witnesses empty plates magically filling with enough E numbers to make their teeth dissolve, which is a perfect realization of a child's crayon drawing of their favorite meal coming to life. This scene culminates in a culinary carnage of Rufio and Peter's food fight, adding an extra layer of fun and whimsy to the film.
John Williams is responsible for making "Hook" sound absolutely incredible, as the film is a treat for the metaphorical tastebuds as much as the senses.
In perfect form, Hook perfectly combines childhood's joy with adulthood's seriousness.
Whenever Steven Spielberg produces a hit, you can always rely on John Williams to provide the accompanying music. However, in the case of "Hook," the composer responsible for half of cinema's most iconic scores arrived and presented a playlist that enhances some of the film's most unforgettable scenes, like sweetened Neverbugs. Moreover, it turns out to be some of his finest work yet.
Yes, you heard correctly. "The playlist should place "Duel of the Fates" or even the "Superman" theme lower in the order. In contrast, observing Robin Williams glide over a giant compass to the melody of "Flight to Neverland" (as described by Charlie Korsmo's Jack) outdoes all of those compositions, or at minimum, merits comparing to them. When combined with Williams' music and the sound of crashing waves, Maggie Smith's speech leading up to Peter's encounter with the primary antagonist still sends shivers down the spine.
The festive atmosphere only adds to the peak musical moments, such as the introduction of the Lost Boys and the banquet mentioned above, which feels like a feast in and of itself.
Williams' music perfectly emphasizes the joy of the film itself. Ultimately, this underappreciated gem is a nostalgic reminder of childhood that provides the perfect level of escapism characteristic of this legendary filmmaker. It's a job well done, old man.