Taika Waititi's most recent Marvel Cinematic Universe installment of "Thor" attempts to push the boundaries of Thor's character more than any previous film has dared to, yet it fails to live up to its predecessor. According to its Tomatometer score, the conflict between Gorr and Thor does little to enhance the lore, and while it's not unwatchable, it can be tedious. As a result, Waititi may not receive an encore and could be replaced.
Aside from the partially-rhyming rants, is it fair to say that "Thor: Love and Thunder" is not a great movie? According to Rotten Tomatoes critics, it is the second-worst MCU movie ever created ("Eternals," you still hold the bottom spot), ranked below movies like "The Incredible Hulk" and "Thor: The Dark World." Losing to "The Dark World" should be cause for serious reflection, particularly since "Thor: Ragnarok" is firmly among the top five critical darlings of the MCU. It's perplexing because, regardless of your feelings about Waititi's unique style, he is objectively skilled in his field, as evidenced by his Oscar win. Given this, one might wonder what went wrong to produce "Love and Thunder".
There is a possibility that we have misconstrued something here. Perhaps "Love and Thunder" isn't intended to be viewed like a typical film. After all, it begins and ends with Korg (Waititi) narrating a story to a group of children, right? Maybe the solution to making the film great is to re-watch it solely from Korg's perspective as a story. That appears to be a logical approach. However, as it turns out, watching "Thor: Love and Thunder" from Korg's viewpoint only worsens the movie. Here's why!
Thor 4's overemphasis on comedy now falls squarely on Korg's shoulders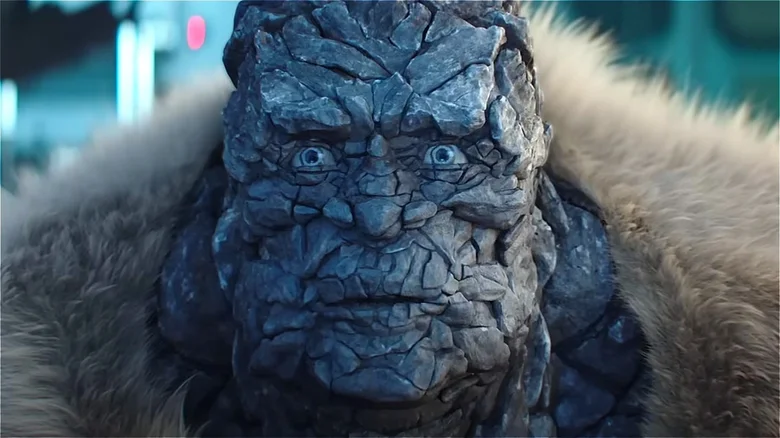 The primary issue with "Love and Thunder" is its excessive reliance on comedy. This disrupts the movie's equilibrium and reduces much of the story to a series of high-budget skits, resulting in a lack of emotional weight for the few significant moments that exist.
In this movie, you can see Academy Award-winning actor Russell Crowe prancing around like a drama student in their second year on a Monty Python bender. If you're interested in witnessing Academy Award-winning thespian Christian Bale pouring his heart into a tragic and foreboding performance that nonetheless devolves into a discarded "I Think You Should Leave with Tim Robinson" sketch with its arbitrary use of comedic voices and snark, look no further. Both Natalie Portman's and Chris Hemsworth's respective Thors are as absurd as can be, and even Jane Foster's Stage 4 cancer is used as the punchline of a joke. In one scene, Thor nonchalantly informs Sif (Jaimie Alexander), a courageous warrior who has dedicated her life to serving Asgard, that she cannot go to Valhalla due to a technicality. This too is treated as a humorous moment. You get the idea; it's all like that.
All of these actors are highly skilled. It's evident that they are not to blame for whatever is happening in the film. When viewed as a conventional movie, "Love and Thunder" appears to compensate for its lack of emotional depth by relying excessively on humor. However, if we consider the possibility that the entire movie is a tale being narrated by Korg, the strange and unnecessary narrative peculiarities and absurdities are suddenly attributable to him.
Korg is the exact wrong kind of narrator for any movie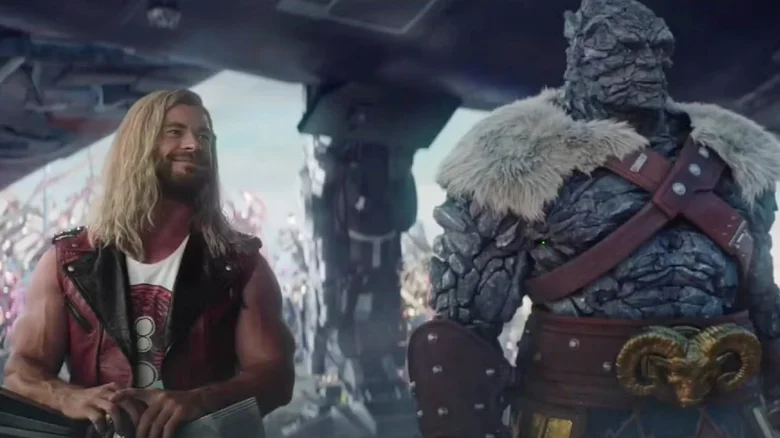 It's an undeniable fact that having Korg as a narrator character is a terrible concept. While it's not uncommon to use a humorous character as a Greek chorus in storytelling, such as in animated films by The House of Mouse, featuring characters like Aladdin's street merchant (Robin Williams), "The Hunchback of Notre Dame's" Clopin (Paul Kandel), and the muses in "Hercules," Korg simply doesn't fit the bill.
However, it's important to note that not all comic relief characters are created equal. Korg's role in "Thor: Ragnarok" worked well because he wasn't a major part of the plot. Despite having several lines and a decent amount of screen time, he served primarily as a charming cameo appearance that effectively provided comic relief. This is precisely how a character like Korg, who is essentially a "scary rock man with a funny voice," should be utilized. Conversely, if a zany character like "Piss off, ghost" were given the responsibility of narrating an entire film, it would likely result in a movie that resembled "Piss off, ghost," rather than a cohesive narrative. Ironically, this description could also apply to "Thor: Love and Thunder."
Korg is already overrepresented in Love and Thunder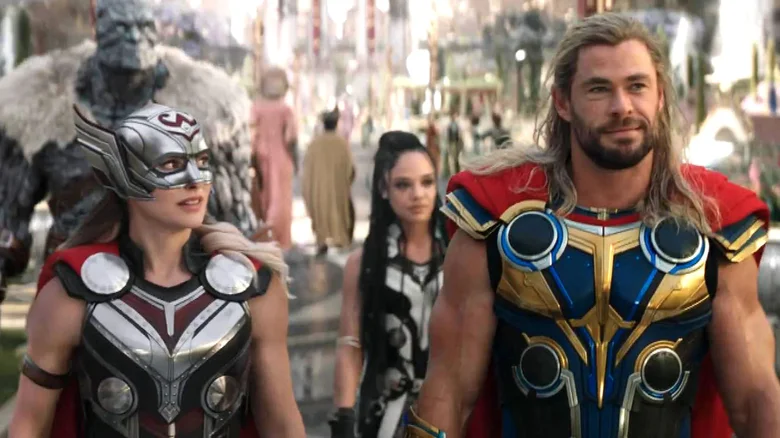 In "Love and Thunder," Korg's character is given a more significant role than in "Ragnarok," despite the fact that his role in the narrative is comparatively minor. In "Ragnarok," Korg's character serves a purpose in the plot by leading the revolt against the Grandmaster (Jeff Goldblum). However, in "Love and Thunder," Korg is seemingly inserted into the story without much reason, and spends much of the movie as a pointless semi-sidekick. Although he does have a bait-and-switch death scene, which sets up yet another bait-and-switch death scene, and a heartwarming sub-sub-sub-subplot about starting a family, his overall contribution to the movie can appear as an instance of the creators indulging themselves.
It's not unusual for Waititi to appear in his own productions. However, while it may be acceptable for him to take on a main role in a film like "Jojo Rabbit," it's a different story when he exaggerates the role of a minor supporting character beyond their natural limitations. When watching the movie with the assumption that Korg is the main viewpoint character and narrator, it becomes clear that his character is stretched to its limits, to the point where it's a surprise he doesn't fall apart before Zeus (Crowe) comes to his aid.
Korg has no way of knowing what really happens in many of the key scenes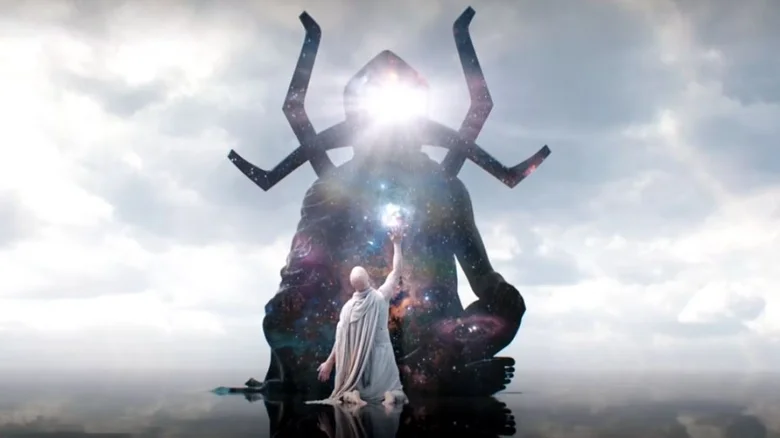 One issue with Korg's perspective is the fact that he's absent from several critical scenes in the movie. Although Korg is known for his outgoing nature and role in the New Asgard community, he would have missed vital parts of the story that happened when he wasn't present. While it's possible that he heard about these events from Thor, Axl (Kieron L. Dyer), or others who were present, this only adds to the problematic aspects of "Thor: Love and Thunder."
At the beginning of the movie, we learn that Korg is a storyteller who follows the tradition of the "great Norse sagas," presenting the adventures of Thor Odinson as a highly cinematic and likely embellished action tale. Given that Korg tends to put his own spin on even the parts of the story he witnessed firsthand, such as describing a nude scene featuring Thor in Omnipotence City to his decidedly underage audience, it's reasonable to question how much of the genuine story remains after he filters Thor's egotistical tales and Axl's enthusiastic accounts of the final battle.
If we assume that Korg's narration encompasses the entire movie, we cannot trust the accuracy of the events presented because the story is being told by an unreliable narrator who has gathered much of his information from other unreliable sources. It's entirely possible that the reality of what occurred during the film's off-world scenes is vastly different from what Korg describes. Perhaps Thor and his companions spent their time playing checkers with a pale, bald individual, and Korg's retelling of the story has transformed it into a grand, divine battle. While injuries were sustained along the way and Sif lost an arm, it's conceivable that it was simply an incredibly intense game of checkers.
The idea of character narration just makes us miss the best storyteller in the MCU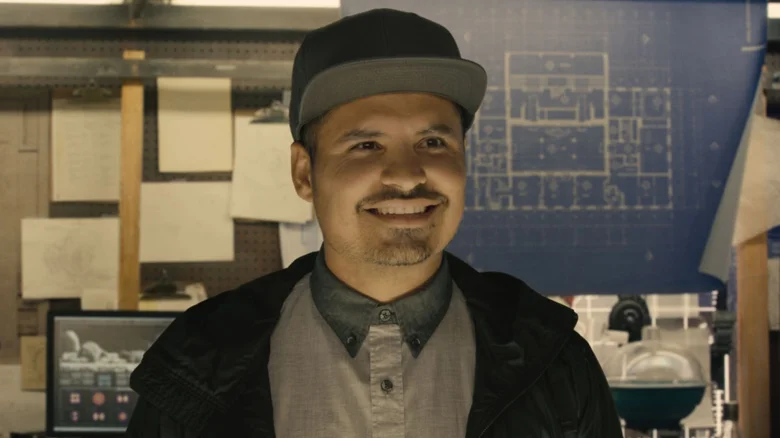 Let's talk about Luis, a comedic MCU sidekick who also acts as a narrator. Although this topic isn't directly related to Korg or Waititi, it's worth discussing. Michael Peña's portrayal of the enthusiastic ex-con in both "Ant-Man" and "Ant-Man and the Wasp" is responsible for some of the best scenes in the films. 
Luis conveys the necessary information through his rapid-fire narration style, which consists of a series of seemingly disconnected tangents, all of which are accurately depicted on screen. Despite his mind meandering to wine tastings, art galleries, and his friends' inner turmoil, Luis never twists the actual facts and describes the events exactly as they occurred. His narration scenes last for under five minutes, but they set the bar high for all other MCU storytellers. Luis shows how to execute the "comedic narrator" concept in a way that doesn't alter the story's trajectory. His take on the events is inserted in a way that's genuinely entertaining.
Luis is simply the opposite of Korg when it comes to storytelling. While Korg's narration can be unreliable and exaggerated, Luis conveys information in a hilarious and accurate manner through his wild series of tangents in a matter of minutes. Therefore, it would be refreshing to see more of Luis in future MCU movies, such as "Ant-Man and the Wasp: Quantumania."