Filming for Spider-Man: Homecoming is still underway in Atlanta, where a Reddit user captured some photos yesterday of star Tom Holland in his Spidey suit.
The first of the photos shows Holland standing on some scaffolding, holding both a color correction card and a tool used to check lighting and assist with special effects in post-production. In two additional photos, Holland is gesturing and appears to be acknowledging the fan/photographer.
Check out the photos here: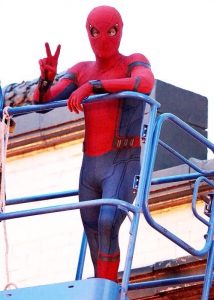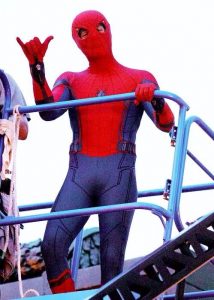 Fans are getting another look at the set thanks to a video Holland uploaded himself on Instagram. A stunt coordinator performs a flip stunt, then Holland does the same. Take a look:
Spider-Man: Homecoming is set for a July 7, 2017 release. Holland is joined by a cast that includes Michael Keaton, Marisa Tomei, Robert Downey, Jr., Donald Glover, and Hannibal Buress.
You can follow Holland on Instagram here for more behind-the-scenes material.