So, Fantastic Four (or Fant4stic, if you prefer)… that went well, huh?
Well, not exactly – it's being described as the worst comic book movie ever made and, while that might be a tad harsh, it really isn't great.
There was clearly a good movie in there somewhere – as director Josh Trank's recent comments, the confirmed last minute changes (such as Tim Blake Nelson's character being completely changed) and the released deleted scenes show – but the final released version was a bit of a mess.
We want to delve into exactly what went wrong and why it has bombed so badly at the box office, so we're going to list its flaws for you right now (in no particular order).
This article obviously contains spoilers.
The Lack Of Chemisty Between The Heroes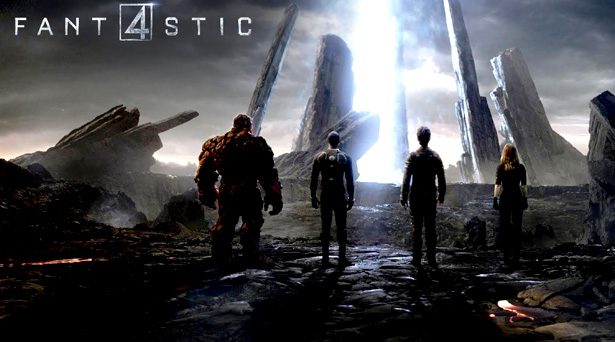 There is a distinct lack of chemistry between any of the actors/characters who are members of the titular Fantastic Four.
To say that Reed Richards and Ben Grimm are meant to be old friends and Johnny and Sue Storm are meant to be step-siblings, you really don't get the impression that any of them even know each other.
It's a problem only exacerbated by awkward moments like the scene in which Johnny Storm goes to fist-bump Reed Richards and Richards awkwardly fails to reciprocate properly.
Cast photos of the foursome seemingly getting along like a house on fire were grossly misleading when it came down to how things appeared on screen.
The Whole "One Year Later" Thing
This was supposed to be an origin movie and was meant to give a more "realistic" depiction of how the Fantastic Four came to terms – as human beings – with suddenly finding that their bodies had changed in such drastic (and varying) ways.
However, the movie dramatically failed on that front (and was always going to), given that the movie skipped a year into the future shortly after the characters experienced those changes.
Aside from the sudden horror of what was happening to them, we saw nothing of how they came to terms with their new forms/abilities.
No sooner had they been transformed, they were adept at using their powers (Ben Grimm, for example, was being utilised by the military).
The Villain Was Terrible
Perhaps we should be thankful that the villain in this movie wasn't the originally conceived version of Doctor Doom – a blogger called Victor Domashev. However, that's not to say the revised final version was good.
He was terrible. Tobey Kebbell did about as well as could be expected with the material he was given, but this villain absolutely wasn't Doctor Doom.
You'd think Fox would have learned after the awful Julian McMahon depiction in 2005 and 2007, but no – they still opted to butcher a character who is every bit as popular in Marvel as Joker is in DC.
This Doctor Doom again gained his powers in the same way as the Fantastic Four – albeit in a different way to previous movies – but he didn't have armour, he didn't know magic and was instead given weird telepathic powers and control over the elements. Terrible.
And He Was Killed Off Too Soon
Toby Kebbell's Doctor Doom emerged from Planet Zero – the planet in the alternate dimension depicted in the movie – having been left there due to being presumed to be dead. He had superior powers to the Fantastic Four due to his prolonged exposure to its environment and elements.
He was brought back to Earth and, after waking up on a laboratory table, went on a rampage that saw a lot of people die prior to him returning to Planet Zero for the final battle.
No sooner had all this happened than he was killed off – disintegrated by his own portal.
This was supposed to be Doctor Doom – one of the most long-standing villains in Marvel Comics – but not only was he nothing like the comic book version, he lasted all of ten minutes on screen in his powered form.
Reg E. Cathey As A Morgan Freeman Wannabe
House of Cards and The Wire star Reg E. Cathey set tongues wagging when he was cast as Dr. Franklin Storm in the Fantastic Four reboot.
The talented veteran was always thought to be capable of doing a great job in the role – although the obvious fact that he is black was a talking point, given that the character is classically white in the comic books.
There was something a little off about his performance, however. It seemed very forced and exaggerated and his role as the wise elder seemed like a rip-off or parody of every role Morgan Freeman has played in recent years.
It literally was like Fox wanted Freeman instead, so they told Cathey to do his best impression of the Shawshank Redemption star – and it just didn't work.
Re-Shot Scenes Were Obvious
It was no secret that a number of scenes were re-shot for the Fantastic Four movie – and that shouldn't be a surprise, because it's not exactly a rare occurrence for that to happen in general in the movie business.
However, in multi-million dollar productions, it's generally something that doesn't affect the movie negatively – which is also unsurprising, as the very purpose of re-shooting scenes is to improve on the scenes that were filmed previously.
Surprisingly, in the $120 million Fantastic Four movie, the re-shot scenes generally had a negative impact on the released version, because they were so obviously re-shot due to a number of continuity errors.
For instance, Kate Mara's hair was shorter for the re-shoots, so she wore a wig – a glaringly obvious cheap-looking wig! And Miles Teller's facial hair changed in length randomly because of the re-shot scenes. They made the film a mess.
A Big Build-Up For An Anti-Climax
The entire Fantastic Four movie feels like a trailer for a movie that never actually happens – that's the sad truth of it.
It's a long, drawn-out bore throughout, in which you find yourself desperately hoping for something to happen – or at least hoping that the ending will make up for the ridiculously long build-up and make the experience worthwhile.
The fact is that you could probably fit the whole film into the first half of a film and make a better second half, which could have resulted in the whole thing being very good.
Instead, the nothingness that is the build-up is capped off with a ridiculously quick finale that is basically over no sooner than it began – it's an utterly massive anti-climax.
Forced One-Liners
This movie was by no means funny and, in general, it actively tried not to be (probably to distance itself as far as possible from the previous terrible Fantastic Four movies – which, ironically, were actually better than it).
However, there were a couple of occasions when it tried to raise a smile, but the attempts really did fall flat on their proverbial faces.
The movie absolutely had to get "it's clobberin' time" in and even gave it an origin – it was a phrase Ben Grimm's brother used when he used to hit him as a child – but that wasn't the only failed attempt to force a one-liner.
Sue Storm referred to Victor von Doom as "Doctor Doom" when he was being needlessly pessimistic and, later in the movie, von Doom himself said "there is no Victor, only Doom" when he was addressed by his first name after gaining his powers.
It's Far Too Literal
It's never great when you don't understand what the hell is going on in any given movie, but Fantastic Four went to extreme lengths to ensure everyone did understand – but it was to the point that it was ridiculous.
Everything that was happening was far too explicitly described – both verbally and visually – to the point that it was as if the people behind the movie assumed the audience were idiots.
A prime example was when the titular characters were exposed to the situation that gave them their powers. Ben Grimm was absolutely bombarded with rocks, while Johnny Storm was exposed to a lot of fire, for instance.
Verbally, everything that was happening was essentially commentated by the cast. For instance, during the finale, Reed Richards said "he's (Doom) made a black hole – it's pulling all the matter from our world into his!" It was very unnecessary.
It Takes Itself Far Too Seriously
As already touched upon in the "forced one-liners" entry on this list, this movie really didn't try to be fun or funny – and that was one of its major problems.
A lot of good has been said of "dark" interpretations of comic book movies in recent years – the recent Batman and Superman movies, for example – but the Fantastic Four as a concept really doesn't lend itself well to that.
That name alone should tell you that you can't be expected to make a deep, dark and emotional movie based on the team – while the likes of a big man made of rock and one who can stretch his body are hard to take seriously to begin with.
The dialogue in general – but particularly that of Franklin Storm – was extremely sombre, dire and lacking in any fun and, rather ironically, that actually make it laughable in the wrong sense.
The CGI Is Poor
For a movie with such a large budget, the CGI in Fantastic Four was actually fairly lousy.
The most notable example of this lousiness was undoubtedly Reed Richards' stretchy arms when he was tied down onto a table after just being transformed into his stretchy self.
However, there were generally quite a few occasions when the CGI just looked a little bit… off.
It was almost as if the people behind the movie were trying to use technology that didn't even exist yet. Essentially, they tried too hard with the CGI and they didn't pull it off at all.
What do you think? Do you agree with these points? What else was wrong with this movie? Did you think Fantastic Four got anything right? Have your say below.