We recently had our first official look at Zachary Levi as Shazam. The photo was a pleasant surprise for fans, who had reacted quite negatively to how the superhero looked in leaked on-set photos.
So we've seen Shazam. What will the studio have in store for fans at San Diego Comic Con 2018? We've heard plenty of rumors that they'll screen the movie's first trailer. Cinematographer Maxime Alexandre just confirmed via Instagram that those rumors were accurate!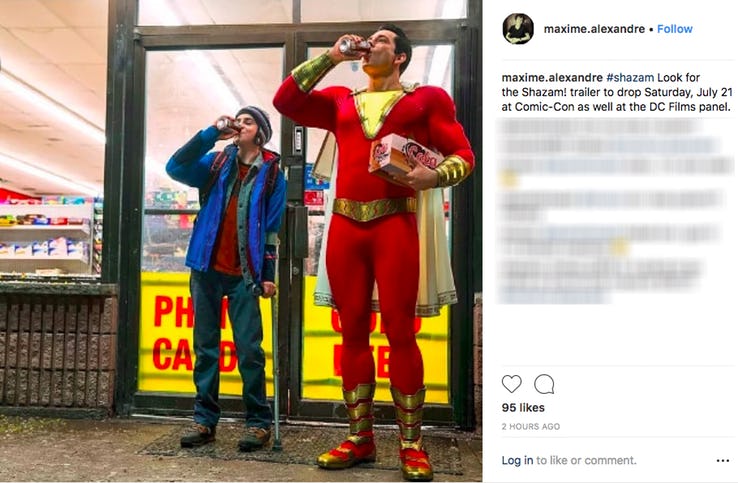 Shazam! trailer confirmed (via Screen Rant)
Fans attending SDCC will be also be treated to a trailer for Aquaman, which is scheduled for a December 21, 2018 release. Plus, Wonder Woman 1984 is scheduled to make an appearance, during which fans hope to get a glimpse of Kristen Wiig in full Cheetah mode. 
Entertainment Weekly recently shared this Shazam! news:
In the film, Billy (whose younger version is played by Disney Channel star Asher Angel) is assigned to a new foster home, where he befriends comic book super fan Freddy. One day, Billy's subway ride is interrupted by a mysterious Wizard (Djimon Hounsou) who's been searching for ages to find the right successor to inherit his powers. He reveals that the teen's been selected to gain an assortment of abilities, and all it takes is for Billy to say, "SHAZAM!"
Comic book fans will agree that this is a fairly accurate depiction of how the DC Comics version of Billy Batson became a powerful superhero.
Shazam! will release on April 5, 2019.