The Skrulls of Marvel just reached their most frightening self and we cannot contain our excitement. Their greatest superpower is back in Marvel's new Secret Invasion series.
When the original Secret Invasion hit back in time, it was a blast. There were crowds hanging in for one glimpse and that is exactly what the latest series aims at. The fumes are already high prior to its release in 2023. The secret Invasion of alien shape-shifters went wrong the previous time and we are hoping for something even better this time. Humanity had won back then, thanks to the technology that persisted around them. But with the latest series, it is kind of obvious that the same technique won't work this time around.
The upcoming American television miniseries created by Kyle Bradstreet will be streaming on Disney+ in 2023. As contemplated, Maria Hill will be seen reeling from the emergent threat of a Skull invasion. She could handle things in the first place but now, they are going to turn against her. This is because the number of Skulls invading are unknown and hence, fighting forces are also undefined. They were able to combat in the first place but what happened in Secret Invasion #2 is still a mystery.
The Skrulls Revive Their Deadliest Superpower in Secret Invasion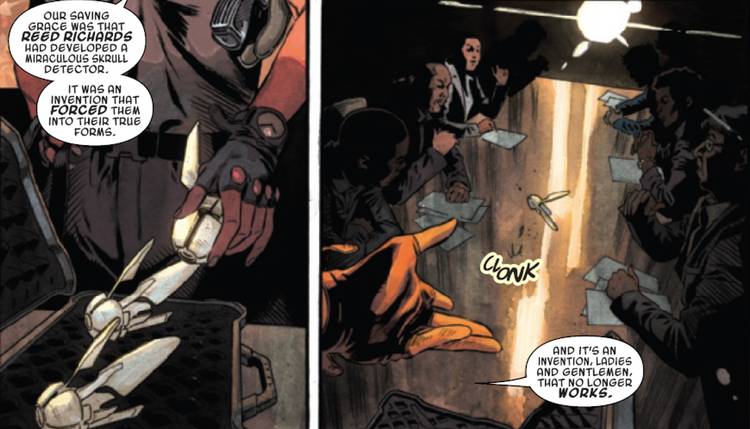 This is exactly why the Skrulls have become the most frightening in Secret Invasion #2. Their superpowers and abilities are not unknown to the world. But the most important superpower in their invasion of Earth was always their anonymity. They could move around undetected, kidnap and replace heroes and political figures without anyone knowing. Their plans would succeed without any obstacles.
This mind-blowing technology was a savior for them and that is going to be the highlight of this series. Their power is back after years of the release of the Original Secret Invasion. Now that Reed Richards is aware that the power has been revived, he has taken all preemptive measures against Skull imposters. All government buildings and top-secret locations around the world have been quickly retrofitted to fight them. But since it's clear, the previous technology won't work against the Skrulls this time, there is nothing much humans can do.
Marvel's Secret Invasion Makes the Skrulls More Dangerous Than Ever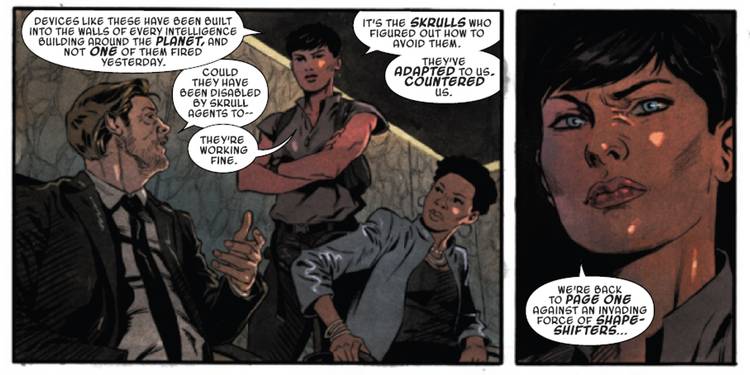 The world has fallen prey to Secret Invasion by the Skrulls and there is nothing much we can do about it, this time around. The technology won't be effective and their superpowers have also been revived. So, unless Maria, Reed, or someone else discovers the secret to the Skrulls bypassing Earth's security measures, there simply isn't any way to tell who is friend or foe on the surface. Although Maria is intelligent enough to uncover potential imposters, there is a good chance of losing out.
The earth and humans were definitely lucky to survive the first time, thanks to their technology. But facts state that the situation is much more complicated today than before. Only time will tell how we survive this Secret Invasion #2 with smartness and intellect, assuming the Skrulls haven't charted their course to victory from the shadows already.
Wait up for the release of Secret Invasion #2  in 2023.