There are a lot of comic books out there; no one can read 'em all. But let's be honest, if you're just reading Batman, Avengers, and Spider-Man, you're missing out on some of the best stuff being published.
Whether they're little known Marvel titles, hidden gem DC books, or wonderful creator-owned comics, these ten books are must reads for anyone who considers him or herself a comics fan. I promise you'll fall in love with at least one, and like at least half, or I will re-fund the money you spent reading this article. Which was nothing. So you get nothing (Good day, sir).
But here's my list. It was very hard to cut out so much of the amazing stuff out there, so I'm SURE I left something great out. But hey, pick something, and give it a read. NOTHING ON THIS LIST IS BAD. So what should you be reading? God, impatient much? I'll get to it. Starting with…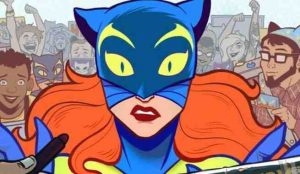 Source: comicbook.com
10. Patsy Walker, aka Hellcat
Marvel Comics are going through a creative renaissance right now. Seriously, since the "reboot" that wasn't, there have been an impossible number of great comics getting pumped out from the house of ideas.
And among those, all of the female-character-led books have been the most consistently fantastic. Ms. Marvel is industry-leading quality and Squirrel Girl is better than it has any right to be, but I feel both of those are well known books. So I wanted to focus on one I adore, and I pray it gets the readership it deserves: Patsy Walker, aka Hellcat.
Patsy, who made her MCU debut as Trish Walker in last year's Jessica Jones, is an out-of-work superhero with a complex backstory and a history of mistakes. She and her friends just try to get by while dealing with Patsy's past, supervillain threats, and the troubles that go along with living in New York City.
The series is laugh out loud funny, with an excellent supporting cast and an ever-present wit. Writer Kate Leth is producing absolutely delightful work and artist Brittney Williams gives the book a charming and unique look that is unlike anything else on the stands. Patsy rocks, check it out. Because seriously, if this gets canceled, I'm gonna be super pissed.