Batman is such an enduring part of comic books that like half of all new ideas in the medium are just "what if Batman was…?" "What if Batman was crazy?" gave us Moon Knight. "What if Batman killed people?" gave us The Punisher and "What if Batman was fundamentally terrible gave us the latter half of Frank Miller's career. But the one that endured the longest and has had the most variations was the simplest: "What if Batman were eeeeeeeevil?" this is fully a third of all Elseworlds stories. The other two thirds are "What if Superman was evil?" for the record. There's the one where Batman is a vampire that murders everybody.  There're a couple with evil Batmen who aren't Bruce Wayne, like The Blue Bat. But in-continuity there have been a huge number of evil batmen. Some were actually bad guys pretending to be Batman while others were more indirect, evil mirrors to our Dark Knight. So let's talk about both types and how they've changed over time.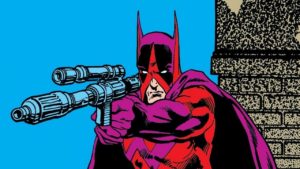 Source: youtube.com
10. Wrath
Wrath is a pretty major unknown but I absolutely love his limited set of appearances.
He debuted in Batman Special # 1 "The Player on the Other Side". In this story, we learn the tale of a young boy whose criminal parents were killed in a gunfight with the police. Their young son made a vow that night to avenge their deaths. He dedicated himself to learning and training until he was a human weapon, a one man war, known as The Wrath.
He returned to Gotham years later where he ran afoul of Batman, who beat him despite Wrath being a pretty even match for him. The character would resurface for a fun Batman Confidential story that revealed that it was James Gordon who killed Wrath's parents in his rookie cop days.
There was also a New 52 version in John Layman's Detective Comics run that was also good, even if he lost some of the Evil Batman design aesthetic. But as far as Evil Batmen go, he's maybe the most direct and for sure the most underutilized.